Welcome to another Transgender Michigan Fundraiser auction!
Transgender Michigan was founded in 1997, and continues to run one of the only transgender helplines in the country, available 24/7 at 855-345-8464. Every tax-deductible donation helps them continue to provide support, advocacy, and education.
Today's auction is for a signed set of all four TWIXT books. But wait – there's more! Metcalf also has a pile of "own voices" and books she's offered to donate to a local shelter and/or children's hospital in your name. The higher the bidding, the more books she'll donate!
$25: Two books
$35: Three books
$45: Four books
$60: Five books
$75: Six books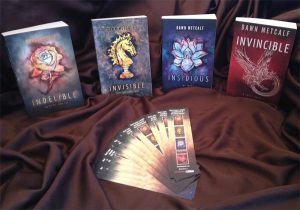 About Book One: INDELIBLE:
Some things are permanent. Indelible. And they cannot be changed back.
Joy Malone learns this the night she sees a stranger with all-black eyes across a crowded room-right before the mystery boy tries to cut out her eye. Instead, the wound accidentally marks her as property of Indelible Ink, and this dangerous mistake thrusts Joy into an incomprehensible world-a world of monsters at the window, glowing girls on the doorstep and a life that will never be the same. Now Joy must pretend to be Ink's chosen one-his helper, his love, his something for the foreseeable future … and failure to be convincing means a painful death for them both. Swept into a world of monsters, illusion, immortal honor and revenge, Joy discovers that sometimes, there are no mistakes.
Somewhere between reality and myth lies … THE TWIXT!
This auction is open to U.S. residents only.
How to bid:
Minimum bid is $25. Bidding starts the moment this post goes live!
Enter your bid in the comments. Bids must be a minimum of $1 more than the previous bid. (No bouncing from $20.01 to $20.02 to $20.03 and so on.) Make sure to include an email address I can use to contact you.
Each auction will run for 24 hours, starting at noon Eastern time and running until noon the following day.
To discourage last-minute sniping, I'll wait until 10 minutes after the last bid to close an auction.
If you want to be notified about other bids, check the "Subscribe to Comments" box when you bid.
Winning the auction:
I'll contact the winner, who will then donate the winning bid to Transgender Michigan. You'll forward me a copy of the receipt, at which point, I'll contact the donor to arrange delivery of your winnings.
About Dawn Metcalf:
The role of Dawn Metcalf will be played by the tall brunette in the off-the-shoulder, floor-length leather straitjacket. Makeup by Clinique, buckles by Jada Pinkett-Smith, hair by Jim Henson's Creature Shop. She is an LGBTQIA Sex & Gender advocate and the author of YA fantasy books LUMINOUS and the TWIXT series.
#
Don't forget about the DAW Raffle!
My publisher, DAW Books, has agreed to contribute:
6 Tad Williams Bundles: each bundle includes one copy of Otherland: City of Golden Shadow (hardcover first edition, first printing)  plus 1 Advance Review Copy of The Heart of What Was Lost.
6 DAW December Release Bundles: each bundle includes one copy of all DAW December titles: Dreamweaver, Tempest, Alien Nation, and Jerusalem Fire, plus a bonus ARC (dependent on stock).
At any time between now and the end of the fundraiser, donate $5 to Transgender Michigan and email me a copy of the receipt at jchines -at- gmail.com, with the subject line "DAW Raffle Entry." Each week, I'll pick at least one donor to win their choice of either a Tad Williams or a December Release bundle from DAW.
You can donate more than $5. For example, donating $20 would get you four entries. However, you can only win a maximum of one of each bundle. This is separate from the individual auctions. Winning an auction does not count as a raffle entry.