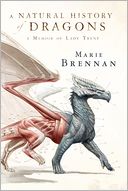 I know I haven't even mailed out the book from my last giveaway yet, but I couldn't help it! I had to give out more free books. Because that's just how I roll!
Okay, what really happened is that a while back I had the chance to read Marie Brennan's new book A Natural History of Dragons [Amazon | B&N | Mysterious Galaxy]. I loved it, and was happy to provide a blurb. Tor recently offered me a finished copy as a way of saying thank you, which was very nice of them. To which I responded, "Yes please, and if you felt like sending me an extra copy, I'll give one away on my blog."
They sent me four.
I'm a-keeping one for myself, but the other three are up for grabs.
And just to make things more exciting, these are autographed copies! Not autographed by Brennan, though. And let's be honest, we authors sign a lot of our books, especially during release month. So there will probably be plenty of author-signed copies out there. But these three books are the ONLY COPIES with MY autograph! Go ahead and look, it's right there on the back cover by my blurb!
In keeping with the theme, all you have to do to enter the giveaway is write a blurb for the not-actually-written book Mary's Angels and leave it in the comments. If you're unfamiliar with this masterpiece or need a reminder, click here for the cover art. Your blurb should be silly, and can be as positive or negative as you'd like. (Though I know you can do better than "Oh, I'm blind" and "Brain bleach!")
Everyone can enter, no matter where you're located, and I'll pick three winners at random next week.
I'll close with the official publisher's description:
You, dear reader, continue at your own risk. It is not for the faint of heart—no more so than the study of dragons itself. But such study offers rewards beyond compare: to stand in a dragon's presence, even for the briefest of moments—even at the risk of one's life—is a delight that, once experienced, can never be forgotten. . . .
All the world, from Scirland to the farthest reaches of Eriga, know Isabella, Lady Trent, to be the world's preeminent dragon naturalist. She is the remarkable woman who brought the study of dragons out of the misty shadows of myth and misunderstanding into the clear light of modern science. But before she became the illustrious figure we know today, there was a bookish young woman whose passion for learning, natural history, and, yes, dragons defied the stifling conventions of her day.
Here at last, in her own words, is the true story of a pioneering spirit who risked her reputation, her prospects, and her fragile flesh and bone to satisfy her scientific curiosity; of how she sought true love and happiness despite her lamentable eccentricities; and of her thrilling expedition to the perilous mountains of Vystrana, where she made the first of many historic discoveries that would change the world forever.
I liked this book a lot. Lady Trent is a great character, the memoir structure works really well, and as a bonus, you get interior illustrations by Todd Lockwood. If you don't win, you should check it out anyway.