Yesterday, the Aicardi Syndrome Foundation fundraiser crossed the $10,000 line, with twelve days left to go. I admit, I'm wincing a little in anticipation of all the poses yet to do, but mostly I'm just amazed and grateful and stunned and happy. Thank you all! I'm working on details of the $10,000 goal, and will post that as soon as things are finalized.
Yesterday also saw the end of the first Jim Hines vs. John Scalzi pose-off, in which Mister Scalzi SHAMELESSLY tried to buy people's votes by offering to donate more money to ASF. The NERVE of that guy! I'm happy to say I still won the pose-off, with 54% of the roughly 6500 votes. Here in the U.S., we call that a MANDATE! Score one for democracy
But John Scalzi is not one to accept defeat. He has already challenged me to a rematch. A CHRISTMAS-THEMED rematch, to be posted on December 25!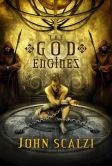 I considered challenging him to do the cover of his own book The God Engines [Amazon | B&N | Mysterious Galaxy], mostly for the amusement factor. Then I thought about pulling something off of Escher Girls, like maybe this illustration of Wonder Woman. And then I found myself looking at some anime covers that made the Wonder Woman illustration look positively tame.
Then I realized my brain was still pudding after hitting $10,000, and that I clearly needed help. So I turn to you for help, oh Internet!
WHAT COVER SHOULD WE INFLICT UPON MISTER SCALZI? And also myself, since we'll both be doing this one. Leave your suggestion in the comments, and if yours is chosen, I'll send you an autographed copy of the Heroes in Training [Amazon | B&N | Mysterious Galaxy] anthology I edited a few years back.
(I may also steal a few suggestions for the other cover poses I need to do. If I choose your idea for one of those, I'll send you my undying gratitude!)
#
And in other awesome charity news, Peter Brett is once again organizing a Dungeons & Dragons game at ConFusion with me, Saladin Ahmed, Myke Cole, Pat Rothfuss, Mary Robinette Kowal, Diana Rowland, and Sam Sykes. And he's auctioning off one additional spot in the game, with the proceeds going to Worldbuilders for Heifers International.