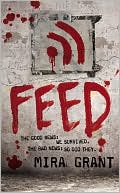 I finished reading Feed [Amazon | B&N | Mysterious Galaxy] by Mira Grant (aka Seanan McGuire) this week.
The zombie uprising began in 2014, due to a combination of two viruses meant to eliminate the common cold and cure cancer. Everyone is infected: when you die, the virus reanimates you as a zombie. But if you're bitten/infected by a zombie, that also triggers the transformation, and you're a walking corpse within minutes.
The book is set twenty-five years after the uprising, and society has adapted (somewhat) to the presence of zombies. Certain territories are more hazardous, and declared off-limits. Blood tests are everywhere. And a trio of bloggers has just been selected to follow and report on presidential candidate Peter Ryman.
One of the key lines for me came early in the book, when Georgia Mason (our protagonist) remarks that the zombies aren't the story. I can't remember the exact wording, but that line captures why the book works for me. We've all seen story after story about zombie uprisings; Feed is the story of what comes next.
I can see why this book has broken out the way it has. You've got classic SF extrapolation of future trends, like Grant's presentation of the blogging world. You've got zombies that make sense (at least moreso than 98% of the zombie stories out there). You've got plenty of zombie-fighting action, political intrigue, and nonstop tension. You've got relevance in the strong parallel between fear of zombies and our present-day attitudes toward terrorism. And Georgia and her brother Shaun make a great pair of characters, complementing one another beautifully.
I'm about to get into major spoiler territory, so if you haven't read it, look away now. (To anyone reading on an RSS feed, I'm sorry – I'm not aware of any way to put a cut tag into the feed.)