Despite multiple Internet-related SNAFUs, the Rape Crisis Center Fundraiser has raised $430 in the first 24 hours. Thank you all for the donations and the links. Another $70 and we'll reach the first bonus prize!
#
When I was at ConFusion this year, I received a copy of The Executioness [Amazon | B&N | Mysterious Galaxy] by Tobias Buckell. This is a novella-length work, and shares a world with another novella by Paolo Bacigalupi, a world in which magic is outlawed, as its use leads to the spread of deadly bramble. It's a great setup, as is the premise of the story: Tana's home is attacked by a neighboring power. Her husband and her father (an executioner) are killed, and her children taken. So she takes up her father's axe and hood and sets out to save them, beginning a quest "that will change lives, cities, and even an entire land, forever. A quest that will create the legend of The Executioness."
There were a few times the story felt a bit rushed, and I could easily see this being a novel-length work. But I liked it a lot (though the cover art, while beautifully done, is a bit eye-rolling with the exposed midriff and leg). I like the way Tana's legend spreads, the way she uses that and learns to take advantage of the fact that women are so often ignored in these conflicts. And without spoiling things, I felt that the ending worked well.
#

I've never read Frazz, but I met Jef Mallett at A Rally of Writers over the weekend, and picked up a copy of Frazz 3.1416 [Amazon | B&N | Mysterious Galaxy].
Talking to Mallett, he came across as the kind of writer I want to be: he genuinely listened to everyone who came up to talk to him, was generous with his time and advice, and just came across as a really nice, down-to-earth guy. I'm happy to say his comics are much the same: smart and funny, and reading his book just made me feel good. I'll definitely be picking up more.
#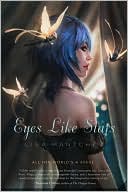 I've been wanting to read Lisa Mantchev's YA fantasy Eyes Like Stars [Amazon | B&N | Mysterious Galaxy] ever since it came out. This is another book with a great premise, taking place within the Theatre Illuminata, a magical theatre where "the characters of every play ever written" live and perform. Beatrice Shakespeare Smith (Bertie) was born in the outside world, but was raised in the Theatre. Throughout the course of the book, she must prove her worth to the Theatre, uncover the mystery of her past, and choose between the pirate Nate and the seductive but dangerous sprite Ariel.
The characters are great. Bertie's fairy sidekicks are highly amusing. Ophelia was another favorite, complex and tragic (per her script, she's constantly running off to drown herself).
My only complaint is that the Theatre, which is supposed to include all plays ever written, seems limited to European and American works, and is heavily weighted toward Shakespeare. But overall, Mantchev takes a great idea and turns it into a very satisfying story.
#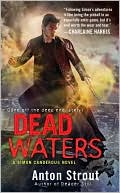 Finally, there's Anton Strout's fourth book, Dead Waters [Amazon | B&N | Mysterious Galaxy]. This time, Simon Canderous is investigating the death of a university professor and former FOG (Fraternal Order of Goodness) agent, while dealing with budget cuts and relationship troubles.
I really liked seeing more of the Inspectre's character in this one, and learning about his past. The central mystery was fun, and similar in tone and action to what you'd expect from Strout's previous book. I wasn't as happy with Simon's relationship tension with Jane, which felt a little forced. But the ending … I don't want to spoil it, but I'm very interested to see how Simon adjusts in the next book. Like previous books, it's a fun, light read.