Yep, it's that time of year again. Here's what came out from me in 2014:
Two short stories: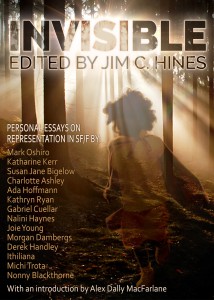 Then there was The Prosekiller Chronicles: Rise of the Spider Goddess: An Annotated Novel. Technically, this would probably qualify for Best Novel or Best Related Work categories, but let's get real. Is there a "Worst Novel" category I should be campaigning for? 🙂
Finally, there's Invisible, a collection I edited of 14 essays about representation in science fiction and fantasy.
#
While I'm proud of all of these things — yes, even Spider Goddess — it's Invisible that I'd most like to share with folks. I was blown away by the powerful, personal, and important stories people shared. The anthology has also raised $500 for the Carl Brandon Society.
Almost all of the essays are available online:
Invisible is eligible for the Hugo Award for Best Related Work.
I'd be happy to send a review copy to eligible voters (i.e., members of the 2014 or 2015 Worldcons). Email me, and I can send it along in .epub or .mobi format. If neither of those work for you, let me know and we'll figure something out.
If you'll be nominating and would like to consider something else I did in 2014, I can hook you up with the short stories and/or even Spider Goddess, too. But if you only have time to check out one thing, I'd love it if you'd give Invisible a try.