Michigan author
Anne Harris, aka Jessica Freely, has spent more than fifteen years searching for a home for her latest novel, All the Colors of Love [Amazon | B&N]. But before we get into that, let's hear about that frisky-looking devil tattoo…
My tattoo is a doodle of a little dancing devil I've been scribbling since I was in fifth grade. I got it when a good friend learned to tattoo and she desperately wanted to get ink in me. I'd never planned on having a tattoo, and was a bit skeptical, so I made sure to get something that was uniquely mine, and to get it on a part of my body I wouldn't see all the time. As it turned out, however, I love it. Sometimes I do forget it's there and it's always a nice surprise when I glimpse it again. I've thought about getting more tattoos but I've never followed through on it. I may wind up being one of those rare folks with just one.
Anne/Jessica asked if she could talk a little about All the Colors of Love, which is a YA gay science fiction romance about Harry, the son of a supervillain. Harry veers between suicide attempts and futile plans to kill his abusive father.
Colors is a sequel to her first novel, The Nature of Smoke. It's also the first gay romance she ever wrote, and changed the course of her career.
In her words:
I wrote the first draft around 2000 or so, when I was still firmly ensconced in traditional NY publishing. My mother had just passed and my dad was dying and I needed something to lift me up, so I gave myself permission to write anything I wanted. That turned out to be Colors and writing it was more fun and freeing than anything I'd ever done before. I was as surprised as anyone else, especially since working with these characters felt like invisible shackles had been taken off my wrists and for the first time I could just write.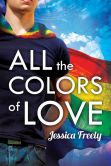 I knew I had to pursue it.
Unfortunately, at that time there was no commercial market for gay romance, let alone a gay YA science fiction book written by a woman. My sf editor wanted me to make the characters straight and my agent convinced me to write Libyrinth instead, which I did, but I wrote Colors too, and I started the long search for a market. When one finally did develop, it was for gay erotic romance, not YA. I set Colors aside again and went on to published over 15 short stories, novels, and novellas (many of them sf/f) in that genre. Fortunately, markets change and now some publishers are taking non-erotic gay romance and several have started YA imprints. Finally, fifteen years after I first started this journey, Colors is out in the world. To say I'm pleased to share it with readers is a vast understatement.