1 – I did an interview about Libriomancer [Amazon | B&N | Mysterious Galaxy] over at the Paranormal Book Club, where I mention my legendary battle with disco ninjas. There's a giveaway at the end for a copy of the book, and five others will win autographed bookmarks.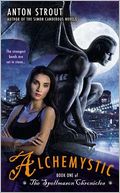 B) Anton Strout had a new book out this week. Alchemystic [Amazon | B&N | Mysterious Galaxy] is the author of the Simon Canderous series, which I enjoyed. (I've talked about a few of them on the blog.) I haven't read the new one yet, though it's sitting on the pile waiting for me. But I can say Anton writes fun, fast-paced fantasy, which just might appeal to some of the folks reading this blog. He's also one of my favorite people to taunt online. Penguin has posted an excerpt of the book here.
III. Vera Nazarian is doing a Kickstarter for her book Cobweb Bride. I've reviewed some of Vera's work here and here, and generally enjoy her stuff. She tends toward a more mythic style in most of what I've read. The premise for her new book sounds interesting.
Lastly: Belated congratulations to Sherwood Smith and Rachel M. Brown on the sale of their novel Stranger. Smith and Brown turned down an offer of representation last year that came with a condition: "The agent offered to sign us on the condition that we make the gay character straight…" I'm happy and proud of both authors for refusing to compromise on that, and I'm delighted to hear that the novel has now been picked up by Sharyn November for Viking. Rachel has more details on her LiveJournal here.
#
And that's all I've got today. Any other new books/projects/announcements we should know about?