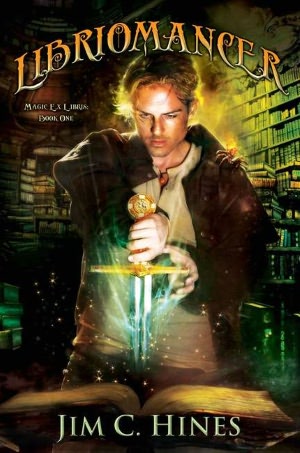 Today is the official release of Libriomancer. Which means it's the day for me to both celebrate and FREAK OUT as my eighth fantasy novel–my first hardcover with DAW–makes its way into the world.
I try not to go overboard with self-promotion, but today I've decided it's okay to make an exception 🙂
Purchase Links:
Amazon
B&N
Mysterious Galaxy
Schuler Books
Indiebound
Synopsis:
Isaac Vainio is a Libriomancer, a member of the secret organization founded five centuries ago by Johannes Gutenberg.  Libriomancers are gifted with the ability to magically reach into books and create things from their pages. When Isaac is attacked by vampires that leaked from the pages of books into our world, he barely manages to escape. To his horror he discovers that vampires have been attacking other magic-users as well, and Gutenberg has been kidnapped.
With the help of a motorcycle-riding dryad who packs a pair of oak cudgels, Isaac finds himself hunting the unknown dark power that has been manipulating humans and vampires alike. And his search will uncover dangerous secrets about Libriomancy, Gutenberg, and the history of magic…
Win Free  Books!
Bitten by Books is hosting an interview/Q&A with me this afternoon, and we're giving away two free anthologies as well as two autographed copies of The Legend of Jig Dragonslayer.
ETA: The interview/contest is now live at http://www.bittenbybooks.com/56041/author-jim-c-hines-interview-and-book-giveaway-live-here/
Early Reviews:
"This funny and fast-paced series opener, Hines's first hardcover for DAW, will be sure to surprise and entertain urban fantasy fans." –Publishers Weekly (Starred Review)
"Libriomancer … communicates a passion for genre fiction that I felt can only be captured with one word–Joy." –Staffer's Book Review
"I picked up the book meaning to read a few pages. My first thought was, 'This is a cool concept.' The second thing I thought was, 'This is really, really clever.' The third thing I thought was, 'I should have gone to sleep three hours ago.'" –Patrick Rothfuss
"This may be Jim Hines's best work. Libriomancer is smart, silly, and deadly serious, all at the same time." –Seanan McGuire
"I really enjoyed Libriomancer, but the cat has been insufferable now that he's found out he has a cameo." -My Mom

More reviews here.
Booksignings:
August 7, 7:00 p.m. Schuler Books – Eastwood Location. Lansing, Michigan.
August 8, 7:00 p.m. Nicola's Books. Ann Arbor, Michigan.
August 9, 7:00 p.m. Schuler Books – Alpine Location. Walker, Michigan.
August 10, 7:00 p.m. Kazoo Books – Parkview Location. Kalamazoo, Michigan.
Thank you:
This book feels like it's been a long time coming, and I want to thank everyone who helped me to get to this point. My editor and everyone else at DAW, Team Agent at JABberwocky, all of my beta readers who offered feedback and suggestions, the experts who answered weird, random questions about fingerprint powder or the material used to build skyscraper ceilings. The reviewers and the authors who kindly offered advance praise for the book.
But I also want to thank the readers and the fans, the people who listened to me read excerpts or babble on about the book, both in person and online. The people who got excited about the ideas, who joined me in that "Ooh, wouldn't it be cool if…?" space. Who generally just geeked out about it with me. Your enthusiasm and excitement helped me to stay motivated, and made me work harder to make this book as good as I possibly could.
Thank you so much for your support and your faith. It means more than I can say.