Our house continues to be somewhat of a plague house, which means I'm still a little behind on blogging, e-mail, and everything else. I blame Jackie Kessler. I was reading her book about Pestilence, and voila — everyone gets the sick.
#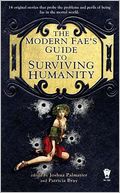 Anyway, today is the release of The Modern Fae's Guide to Surviving Humanity [Amazon | B&N | Mysterious Galaxy] edited by Joshua Palmatier and Patricia Bray. It contains my story "Corrupted," about a fae FBI agent and how far she'll go to stop her murderous kin.
I read this at ConFusion, and it was strange … the story has a fair amount of action and some humorous bits, like most of my work. But at the end, I actually choked up a little while I was reading. That doesn't usually happen when I read my own stuff.
I was rather pleased. I mean, I would have been pleased, if not for the fact that it made me stumble while I was trying to be Mister smooth and professional author guy doing a reading…
The book also includes work by Kristine Smith, Seanan McGuire, Jay Lake, Elizabeth Bear, Anton Strout, and more.
#
With Libriomancer [Amazon | B&N | Mysterious Galaxy], I played around with a variety of vampires. I've got pre-Stoker vampires, modern urban fantasy vamps, even a few sparklers.
For the sequel, I've introduced a pack of Yooper[1. From Michigan's Upper Peninsula] werewolves. Since I rather enjoy playing with and subverting expectations and tropes, I wanted to open up a chat about werewolves, talking about things like:
Do you like them? Hate them? Why?
What werewolf cliches have you seen way too often?
What's your favorite werewolf myth or belief?
Who do you think writes the best werewolf fiction? What about the best films?
What makes werewolves cooler than vampires? (Or vice versa.)
Because what fun is having a blog if you can't occasionally tap into that big old group brain?
—