First Book Friday is back from vacation, and would like to remind you all that submission guidelines and the index of previous authors are both available on the website.
Today we have Mette Ivie Harrison, who has written (among other things) three princess novels. As we all know, writing princess books makes you AWESOME! She's also done a novel about the magic mirror from Snow White. (If she starts writing about goblins too, I'll be spooked.)
Harrison is also an avid triathelete. You can find her on LiveJournal and Twitter.
#
By 2000, I had been writing seriously for six years and had completed twenty novels, some for adults, some for children. I persisted in a (perhaps) naive belief that if I wrote a novel good enough, it would be published. If I hadn't been published yet, it was because I wasn't good enough. And by good enough, I meant so good an editor couldn't say no to it, not just as good as other things on the shelf. I also firmly refused to believe that "connections" were the way to sell a first novel. I'd met editors at conferences, and I certainly sent to them first, but I also sent queries to just about any listing in Writer's Market that fit the genre I was working in.
When I was sending out The Monster in Me [Amazon | B&N | Mysterious Galaxy] in proposal form after many years of revision, the Holiday House listing in Writers Market said to send proposals to "Acquisitions Editor." I suppose they had given up putting in a name because the people in that position rotate so fast that by the time the book is printed, there is someone else you should send it to. I cringed not to have a name, but I sent it anyway. Then I went back to work on something else, in this case on Mira, Mirror, a retelling of the Snow White fairy tale from the mirror's point of view. About three months after I sent off the query, I got a reply from Suzanne Reinoehl, a real name! She asked to see the whole manuscript of Monster, which I sent off to her the next day. I was hopeful, but I'd had people request full manuscripts dozens of times before. I knew it didn't mean anything. Or it might not mean anything.
Three months after that, I got a phone call. Caller ID told me it was from Holiday House and my heart started pounding. Sure enough, it was Suzanne Reinoehl making a modest offer on Monster. I told her that I was very interested, but that I was working on getting an agent and would prefer to have the agent seal the deal. Then I hung up and called a couple of agents who still had not yet rejected me. One of them, Barry Goldblatt, asked me to send the manuscript to him, since the manuscript I had sent to him was actually a different one out of those twenty I had written. He took the weekend to read it and got back to me on Monday, offering representation. Then he went to bat getting me the best deal possible from Holiday House. He called a couple of editors at other houses who had read the manuscript in earlier stages to see if they were sure they didn't want it, but in the end, I signed with Holiday House.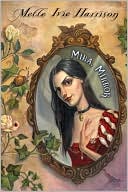 My second book, Mira, Mirror [Amazon | B&N | Mysterious Galaxy], was actually the manuscript that I had sent to Barry when I first queried him, and which impressed him enough that he had considered offering representation before I had an offer on the table for Monster. He was a new agent at the time and had been recommended to me by a friend who also signed with him that year. Mira, Mirror sold two years later to Viking, and I have since focused mainly on writing fantasy for young adults, sometime fairy tale retellings, character-driven, and a little on the dark side.
When I go to conferences and talk to other writers, I continue to send the message that if that first manuscript doesn't sell, work on another one. And another. And another. In the last ten years, I have yet to meet anyone who has written more than twenty novels before being published. Not everyone is as persistent or as foolishly optimistic as I was then. Or perhaps they don't have the energy. I had four children under the age of 7 at the time and woke up at 5 almost every morning to work on my writing before the kids needed me. I was a nap Nazi, making sure that they all slept at the same time in the afternoon so that I could fit in another hour. I'm not sure exactly how I managed to do all that, but it mattered a lot to me. I had wanted to be a writer since I was in Kindergarten, and had lived through a lifetime of questions about when I would get a "real job." I think that drove me, along with anger over the loss of a university position after years of working to get a PhD.
That first phone call with Barry, when he offered representation, I have a clear memory of going into the storage room in the basement of my parents' house, where we were staying in order to get our finances in order, and holding the unlockable door shut for over an hour while six children (my own four and two others I was babysitting daily for extra money) alternately banged on the door and cried. I was trying to hold an adult conversation that was important to the rest of my life. I think I actually was able to understand most of what Barry said to me to understand his vision of a writer's career, his tastes in literature, and his view of me as an author. I think I was mostly coherent in return, and not as eager as I was tempted to be. I really hope Barry couldn't hear the kids crying in the background. When I came out, I got them lunch and went back to my regular life. Everything had changed, and nothing had changed.