Today's episode of First Book Friday is brought to you by the letter ñ. Previous entries in the series are indexed here, and the submission guidelines are over there.
Bradley Beaulieu is a fellow Writers of the Future winner, the author of a number of published short stories. His website is named "quillings" in honor of Tolkien and his literary discussion group, the Inklings. That has nothing to do with first books, but I found it interesting.
Read on to learn about the inspiration behind Beaulieu's debut fantasy novel, and his sale to Night Shade Books. When you're done, you can check out the book or find Beaulieu on LiveJournal and Twitter.
#
First of all, thank to Jim for letting me stop by on First Book Friday. I'll have to admit that The Winds of Khalakovo [Amazon | B&N | Mysterious Galaxy] didn't have a terribly exciting path to publication. It was pretty straightforward, actually. It's the stuff that led up to it that's interesting.
So I think in this post I'll talk about the creative path I followed and then the actual nuts and bolts of the sale.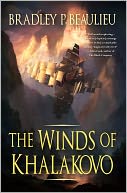 After my agent finished reading the ms, he mentioned that he pictured one of my main characters, Rehada, as Rima Fakih. Remember her? She won Miss USA last year and there was a kerfuffle because she was (gasp) a Muslim-American. I replied that yes, Rehada was similar to her, but it was an interesting segue because I already had a picture of Rehada—at least one that I began with when I started to envision the characters.
Rehada—and just about every other main character in the book—was created from some artwork I saw in Edinburgh in 2004. My wife, Joanne, and I were on a whirlwind trip through the UK, and we stopped in Edinburgh for a few days. We visited the National Gallery of Scotland, and I was so struck by some of the portraits there that I decided I would take the ones that struck me the most and write a story from them. I still have the postcards near my computer desk. They aren't exactly like I picture them anymore (now that the first book is written) but they're still quite close.
It's an interesting technique, and one I'll use again, that of taking individual portraits and using them for inspiration. I've already repeated the technique for a new book I've started (but not yet finished) and once again it helped to crystallize my thoughts. The characters as I envision them in the book end up deviating from the art, but it's nice to have something to go back to, to find the grounding and original inspiration you had when you started the work. It's so easy to get off track; having something like these helped me to stay true to what I was shooting for when I launched into the novel.
I also wanted to share the sexy (so kidding!) steps of the actual sale. I had been making steady progress throughout the years in short story sales. I had attended a number of workshops, and I think my name had at least some recognition by editors, either from short stories I'd published or personal connections I'd made at conventions. Some people will say that you shouldn't go and sell yourself at conventions. If an opportunity comes up, they say, and an editor or agent asks you what you're working on, go ahead and take advantage of it. I don't doubt that that's good advice for some. Just not for me. I believe that editors and agents are at cons not just to sell books, but to see who's coming up in the field. They'll get to know a certain percentage of the newcomers from their short sales, or even novel sales, but they can't read everything. They can't even read a small percentage of the fiction that comes out each year. So, frankly, it's up to me to make them aware of who I am.
Now, that doesn't mean you should be pushy. You should be friendly and businesslike. Keep things short and sweet and as casual as you possibly can. And that's exactly what I tried to do. I approached Jeremy at World Fantasy in San Jose (2009) and told him I had an epic fantasy that he might like. I pitched it as "The Song of Ice and Fire meets Earthsea." He asked me if I had an agent. I said no. Night Shade doesn't normally take unagented mss (and I should probably ask Jeremy some day if he gets annoyed that I tell this story), but he said he liked the cool pitch and said to send it his way. Roughly five months later, I got an email from Jeremy, offering to publish the book.
That's my story. It seems short and sweet if I focus on the sale, but believe me, it was a long time in the making