Welcome to First Book Friday, an ongoing series exploring how various authors sold their first books.
Today's story comes from bestselling author Lisa Shearin (whose latest book Bewitched & Betrayed had a cameo in the new music video from The Guild — and yes, I'm jealous!)  Lisa talks about the excitement of getting The Call … both Calls, actually.  Lisa is also an active blogger, providing 23 metric tons of useful publishing and writing-related information each month at http://www.lisashearin.com/blog/
#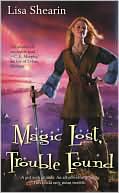 My first sale was Magic Lost, Trouble Found [B&N | Mysterious Galaxy | Amazon], the first book in my Raine Benares fantasy adventure series.  Over more years than I care to remember, I wrote two books that were the warm-ups for Magic Lost, Trouble Found.  Once I found my voice, and a plot solid enough to hang a story on, MLTF took me about 3-5 years to write.  (That's a big difference from the nine months or less that I now take to write my books.)
The first step for me in getting that first publishing contract was to get an agent.  I'd read where Kristin Nelson (Nelson Literary Agency) was looking for fantasy with a strong female protagonist.  If that didn't describe Raine, I didn't know what did.  I sent a query letter.  Kristin requested the first three chapters, then the entire manuscript.  Then came weeks of me jumping every time the phone rang or the e-mail beeped.
"The Call" came during the day while I was at work (at the day job). When Kristin said she loved my book and wanted to represent me, I did a lot of silent squeeing and fumbling to find a pen and paper to take notes. That alone shows how completely befuddled and caught off guard I was — I'm an editor, writer and proofreader at an advertising agency; I've got pens and paper all over the place. I had two other agents who were also considering my book, but I really wanted to sign with Kristin. Why? Because she was so excited about my book and seemed to love my characters as much as I did. For me, that was a must-have for an agent.
The frustrating part of getting The Call at the office was that while my co-workers congratulated me, they had no clue how freaking HUGE and MAMMOTH and HUMONGOUS this moment was for me. It's definitely more fun to squee with people who know why they're squeeing with you.
As to the e-mail from Kristin saying that we had an offer of a two-book contract from Ace Books — that one came at home. I'd just gotten home from work and had been checking my e-mail like crazy every day. When I saw the subject line "We have an offer" or something to that effect, first I stopped breathing. Second, I let my breath out, took another one, and told myself to keep breathing. Then I opened the e-mail.
And screamed.
Bear in mind that I was at home and so was my husband Derek. Now he understood how huge, mammoth, and humongous this news was, so when I burst into tears, I got the perfectly appropriate response of enthusiastic hugs and kisses.  The dogs were crowded around us and jumping up and down — they had no clue that mom had just scored a two-book deal; they just wanted to share in the excitement.