Welcome to First Book Friday, an ongoing series exploring how various authors sold their first books.
Carribean-born Tobias Buckell is a busy guy.  In addition to his four published novels, including the New York Times bestselling Halo: The Cole Protocol, Buckell is the founder of SF Novelists, a full-time freelancer, and the father of one-year-old twins.  He and I share an agent, and it was through Toby that I connected with the folks at JABberwocky.  He took time to share the five-year roller coaster ride that led to the publication of his first book, Crystal Rain.
#
Back in 2001 I met my agent, Joshua Bilmes (of JABberwocky Literary Agency). We were introduced by another author, and we chatted politely in the hallway. I'd only sold a few short stories by then, and written a novel proposal, but not continued work on the novel. It was a bizarre mix of Caribbean expats and a reborn Aztec nation, created by strange aliens, all set on another planet that had lost contact with Earth. I called it a Caribbean steampunk lost colony world sort of novel.
Now, I knew that agents usually didn't snag authors based on partial manuscripts, so when Joshua gave me his card and told me to send the partial manuscript along, I'd pocketed the card and done nothing. 9/11 soon had our attention, and there were short stories I had not yet finished.
But some time later in the fall or early winter, my phone rang and Joshua's voice came through the other end. He wanted to know why I hadn't sent that proposal along. "Oh," I said. "You weren't just being polite!"
Just before Christmas, he called back to say that if the whole book was as good as the first three chapters, he'd represent it, and that I should write the book.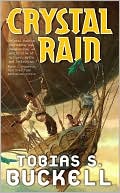 I spent a good chunk of 2002 writing the first draft of the first novel I'd ever attempted: Crystal Rain [B&N | Mysterious Galaxy | Amazon]. Airships, cyborgs with dreadlocks, battles at sea, funky aliens…  I had a total blast writing the thing, and I tried to imbue it with all the energy I could. But showing it around to various people I trusted revealed flaws, and throughout a chunk of 2003 I workshopped it. Joshua had some rewrites for me as well. We sold it to Tor in 2004, and there were edits and rewrites my editor wanted. I remember sitting in the basement of our newly purchased house sweating over the novel line by bloody line.
It came out in February 2006.
Having your first book launched is supposed to be the most magical, exciting thing. And I had a small taste of that. But two days before my launch I was informed I was going to be laid off, and my attention turned quickly toward trying to assemble a life as a full time writer/freelancer years before I had planned to try that.
It worked out, and now I get a lot more time to write. But it was a hell of a roller coaster ride, having a new book out while trying to basically invent a new job!