For the past week or so, most of my brain has been going into trying to write up proposals for a new series.  I've got the first synopsis written, and my agent says it looks like fun.  The second book … well, I scrapped that one and started over yesterday, and I think I'm on the right track.  But I find myself skimping a little on the blog as I try to get these finished and submitted.
So this seemed like a good time for a book giveaway.  I've ended up with extra copies of Marie Brennan's A Star Shall Fall [B&N | Mysterious Galaxy | Amazon] and Tanya Huff's The Enchantment Emporium [Amazon | Mysterious Galaxy], and I'd love to find good homes for both of them.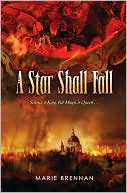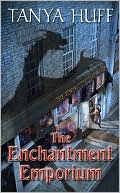 To enter, you're going to have to help me out with this synopsis I'm writing — leave a comment suggesting the weirdest/silliest/most bizarre twist I should add to my new series.
Yes, I know I haven't told you what the series is about.  That's what makes it fun 🙂  Be as creative as you'd like, and make sure you say which of the two books you'd like to win.  One entry per person, and this is open to everyone.
I'll pick two winners at random on 10/20/10.