The SFWA Bulletin is back after a roughly ten-month hiatus. I'm not interested in reruns of arguments from a year ago, but I wanted to take a look at what SFWA has put together for the relaunch of their professional magazine. (And of course, Jason Sanford beat me to the punch pretty much as soon as I started writing this blog post.)
One of the biggest changes is that the Bulletin will now be available in both print and electronic format. Members can log into the Forums and download the magazine here in .epub, .mobi, or .pdf format. I'm told the electronic edition will also be made available for sale to non-members, though I don't believe that's happened yet.
Given the events of last year, I suspect most everyone's going to immediately check out the cover. The artwork is by Galen Dara. I like it a lot as an image. Dara does nice, evocative work. I'm not entirely sold on it as a cover for the Bulletin, though. The text layout doesn't really pull together for me, and the overall cover … it just doesn't scream "professional journal" to me.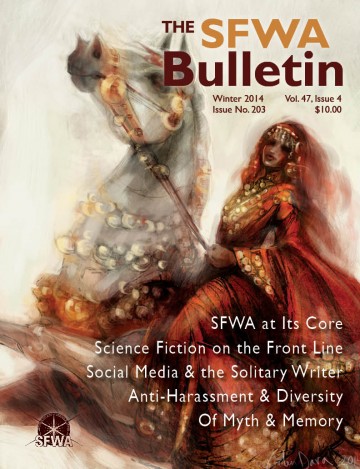 That said, this is an interim issue. Moving forward, John Klima is taking over as editor of the Bulletin, and I suspect there will be more changes to come. As a transition/relaunch, I think the cover works well enough, and definitely sends the message that the organization is working to avoid the mistakes of the past.
The contents have a distinctly different feel, with an emphasis on what SFWA is and what the organization does. The very first piece is Susan Forest's, "SFWA at its Core," which talks about SFWA's five core goals (inform, support, promote, defend, advocate), and the different ways it works to achieve those goals.
There are articles about the website, the SFWA Forum, the Ombudsman's role, the SFWA Reception and other events, the online discussion boards, the YA/MG group, and more. If you wanted to put together an introductory packet for new and prospective members, you could pick up this issue and be halfway there.
And there are HONEY BADGERS! Comic relief honey badgers from Ursula Vernon and MCA Hogarth. I don't know what Klima is planning for future issues, but please consider this a plea for more honey badger comics!
This is a good relaunch, and worth reading for anyone who wants to know why they should bother joining SFWA, or what the organization really does. Thank you Tansy Rayner Roberts, Jaym Gates, Neil Clarke, Steven Gould, and everyone else who worked to make this issue happen. I'm looking forward to seeing where the new editor takes it from here.