Welcome to First Book Friday!
Laura Anne Gilman (suricattus on LJ) has been an editor, a writer, a writer by another name, and is also an editor again.  Basically, when she talks about the writing biz, people listen.  Her latest series is the Vineart War Trilogy, which uses a wine-based magic system.
In her free time, she fights crime as one of the Teenage Mutant Ninja Meerkats.
She notes that for her First Book Friday post, she chose to wrote about the "first original solo venture that I kept the copyright to, not a media tie-in."
#
First, I wrote 100,000 words. Then it was rejected by every single major publishing house.
No, wait, let me back up a bit.
First, way back when I was still a full-time editor and mostly writing short fiction, I got involved with a real-time, net-enabled role-playing game, combining magic and spies and science and whathaveyou. And then the game fizzled out, and I was left with this character who had developed a very real voice in my head.
No, it wasn't Wren Valere, the heroine of my book (and eventual series) but Sergei Didier. Yeah, Sergei started out as a hard-as-nails spymaster. If you look close, he still has that core…
So I figured, okay, should do something with him. He needs a foil … and so Wren appeared.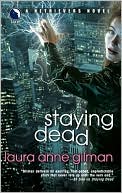 But the addition of Wren into the story changed Sergei, and by the time I had finished creating their world and adventures around them, it had become something entirely new, that I was utterly in love with. And that was Staying Dead [B&N |  Mysterious Galaxy | Amazon].
My agent and I took it, and the proposal for two more novels in the series, to the various publishing houses, except, for obvious reasons, the one I worked for.
And every single one of them rejected it. Some with a flat no, some with a "could you…" revisions request. (At one point I had rewritten the first three chapters to make it work as a YA title. No go). At the time — the early 2000's — urban fantasy without a sexy vampire was just not getting editors' attention.
I was still an editor myself, then, and I knew what the odds were after that, but wasn't going to give up … okay, maybe I was a little disheartened and wailing into my booze. But in the meanwhile I had put together another more traditional fantasy proposal, and it was out on submission as well, including to a new imprint starting up, that had been looking for romantic fantasy.
The editor and I were friends, and had lunch on occasion, griping about our industry. And during that lunch I mentioned the proposal she STILL had on her desk after many many months, and mentioned the other one that was currently not making the rounds.
"Really?" she said, when I described it. "Send it to me."
"But you were only looking for traditional, historical fantasy," I said.
"Send it to me."
And so we did. And Luna bought it. And two more. And then another three. And then a spin-off series. By the end of 2012, there will be twelve books in the Cosa Nostradamus, plus a short story collection.
Not bad for a first book that couldn't find a home…