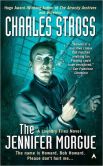 I've fallen behind in my book reviewing again, so this is my attempt to catch back up, starting with The Jennifer Morgue [Amazon | B&N | Indiebound], by Charles Stross.
This is part of Stross' Laundry Files, about magic and computers and government employees. In this one, "Bob Howard, geekish demonology hacker for The Laundry, must stop a ruthless billionaire from unleashing an eldritch horror, codenamed 'Jennifer Morgue' from the ocean's depths for the purpose of ruling the world…"
This was another fun read, similar in tone to The Atrocity Archives (which I enjoyed, and reviewed here). Only there's an added twist. Without getting into details, Stross has found a clever way to write a tribute/parody of a certain other subgenre, one which fits perfectly with the rules of the world he's created. It felt a little forced in one or two places, but for the most part, I enjoyed watching Stross play with the tropes and structures of those other books, while occasionally smiling and thinking, I see what you did there.
The character of Ramona was fascinating, and representative of the real darkness Stross gets into with these books, beneath the humorous surface. People have talked to me about feeling uncomfortable with Lena Greenwood's character, with her nature and the way I chose to write her. Ramona created similar discomfort as I read–she's possessed by a succubus, meaning she has a physical need for sex, as well as using sex as a weapon of assassination. While I'm not sure Stross handles this perfectly, neither do I, and I give him credit for not ignoring the problematic aspects of Ramona's character.
Overall, if you enjoyed the first book, you'll almost certainly like this one as well. They're smart, different, and bring enough humor and darkness and action to keep things moving.
#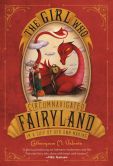 Next up is Catherynne Valente's award-winning YA book The Girl Who Circumnavigated Fairyland in a Ship of Her Own Making [Amazon | B&N | Indiebound], about a 12-year-old girl named September who leaves Omaha during WWI to travel with the Green Wind to Fairyland, where she befriends a wyvern who's part library (only A through L), meets witches, rustles wild bicycles, confronts a queen, and so much more.
Valente's imagination shines through from every page, presented in lush language by a narrator who offers their own commentary throughout the book. It felt like I was reading an old-fashioned tale of young, fantastic adventure, with shades of Wonderland and Narnia and more. I enjoyed it, but I could also see reading this one to my 9-year-old. I suspect he'd get a kick out of it.
My guess is that a lot will depend on whether or not you like Valente's style in this book. I'd definitely recommend checking out the excerpt on the publisher's website.
#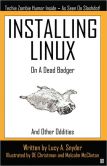 Finally, there's Lucy A. Snyder's Installing Linux on a Dead Badger (and Other Oddities) [Amazon | B&N | Indiebound], a collection of "12 humor stories about computers and the forces of evil." I received a review copy of this one in audio book format, as read by Mary Bertke, and listened to it while driving to and from ConFusion earlier this month.
The collection starts with step-by-step instructions for installing Linux on a dead badger, but this is only the start. From there, the stories begin to explore the implications of a world where you can reanimate the dead with the right hardware and operating system. Many of the stories take the form of news reports, exploring everything from the implications of zombie call centers to the special Kung Fu mode you can activate in your dead badger.
The first story went on a little long for my taste, but I liked the larger picture Snyder created as the collection progressed in its satirical exploration of a world — particularly the corporate world — that's gotten its hands on magic. As someone who's worked both in tech support and in the land of cubicle bureaucracy, many of Snyder's ideas felt just familiar and plausible enough to be funny. (And also depressing, now that I think about it … how many of us could be replaced with zombies at our day jobs?)
Three of the stories are available on Strange Horizons: