You know how all those old fairy tales take you through lots of scary adventures until you finally reach that inevitable line: "And they lived happily ever after…."  Guess what?  It's not true.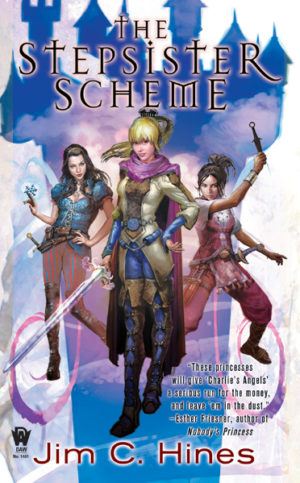 The Stepsister Scheme
Locus Bestseller
The epic, action-packed story of what happened after the fairy tales.
Once upon a time, a girl named Danielle (better known as Cinderella) escaped her evil stepmother, married a prince, and according to the stories, lived happily ever after.
The stories lie.
Danielle Whiteshore has no sooner moved into the palace when her stepsisters show up to kidnap her prince and steal him away to the realm of fairies. To save Prince Armand, Danielle needs more than the enchanted glass sword her mother left her. She needs the Queen's secret protectors: the deadly warrior and assassin Talia (Sleeping Beauty) and the fun-loving, flirtatious witch known as Snow White.
Plunged into a world of adventure and intrigue, Danielle must forge the trio into a team if they're to rescue her prince and survive the machinations of a foe far deadlier than her stepsisters.
Read the first chapter (PDF)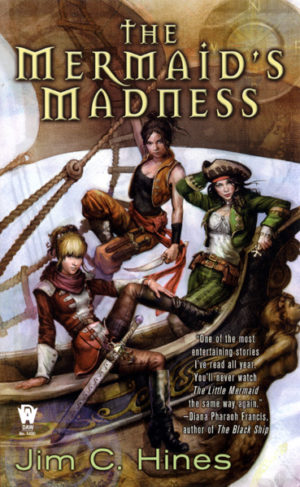 The Mermaid's Madness
#1 Locus Bestseller
Cinderella, Sleeping Beauty, and Snow White face a deadly threat from under the sea.
The first meeting between Princess Danielle Whiteshore, better known as Cinderella, and the merfolk who inhabit the seas of Lorindar, should have been a diplomatic formality. Instead, a deranged mermaid named Lirea launches a sudden and brutal attack that leaves Queen Beatrice on the edge of death.
To stop Lirea and save the queen, Danielle, Talia (Sleeping Beauty), and Snow (White) must ally with a mysterious witch from the sea. Only together can they hope to stop the war Lirea has set in motion.
But every secret they uncover leads deeper into danger. Lirea's wrath is tangled in older, more sinister plans that could change the fates of humans and merfolk both, plans that will test the strength of Danielle's team to the breaking point and beyond.
Read the first chapter (PDF)
Red Hood's Revenge
Locus Bestseller
The assassin known as Red Riding Hood has a new target: Sleeping Beauty.
Humans and fairies have fought for generations to control the desert land of Arathea, home of Talia Malak-el-Dahshat, better known as Sleeping Beauty. For the first time since escaping the brambles, Talia returns to a home now ruled by her enemies, where Talia is under sentence of death. A sentence the assassin Roudette, the Lady of the Red Hood, is eager to carry out.
With Snow White and Danielle (Cinderella) at her side, Talia finds herself at the heart of the conflict between human and fairy, and targeted by an ancient threat that will soon ravage all of Arathea. Talia's allies are few, but there are those who would rally behind their rightful princess. Talia didn't intend to start a civil war, but she may have no choice.
Assuming Roudette doesn't kill her first.
Read the first two chapters (PDF)
The Snow Queen's Shadow

Snow White is their dearest friend…and their deadliest enemy.
When Snow White fled her homeland of Allesandria after the death of her mother, she took with her only one thing: her mother's magic mirror. Now, a spell gone wrong has shattered the mirror, freeing the demon enslaved there so many years ago. The demon's magic distorts the heart and vision of each person it touches, and Snow is the first to fall under its power.
Snow takes Danielle's son hostage and returns to Allesandria, determined to claim her rightful place as queen, and to take revenge against those who supported her evil mother.
As one city after another falls into darkness and evil, Danielle (Cinderella) and Talia (Sleeping Beauty) search desperately for a way to rescue Danielle's son and free Snow from the demon's influence. The cost of failure is war and death.
The cost of success might be the same.
Read the first chapter (PDF)