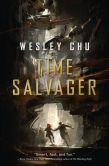 I received an advance copy of Wesley Chu's Time Salvager [Amazon | B&N | IndieBound] a while back. The book comes out on July 7, and is a rather dark time-travel adventure based in a grim 26th century. From the publisher's description:
In a future when Earth is a toxic, abandoned world and humanity has spread into the outer solar system to survive, the tightly controlled use of time travel holds the key maintaining a fragile existence among the other planets and their moons. James Griffin-Mars is a chronman–a convicted criminal recruited for his unique psychological makeup to undertake the most dangerous job there is: missions into Earth's past to recover resources and treasure without altering the timeline.
On a final mission that is to secure his retirement, James meets an intriguing woman from a previous century, scientist Elise Kim, who is fated to die during the destruction of an oceanic rig. Against his training and his common sense, James brings her back to the future with him, turning them both into fugitives. Remaining free means losing themselves in the wild and poisonous wastes of Earth, and discovering what hope may yet remain for humanity's home world.
James Griffin-Mars is bitter, burnt out, and in some respects broken. The laws of time travel limit him to locations where his thefts won't be noticed: ships and facilities doomed to destruction. Those same laws mean he's constantly abandoning the people he meets, leaving them to die. Between that and the crumbling world of his home time, it's no wonder Griffin-Mars is rather messed up.
As a result, for much of the book, he's rather unlikeable, too. He can't afford to be likeable, not if he's going to do his job and survive. He's also got a kind of paternalistic attitude toward his love interest, Elise Kim. In some ways it makes sense — she's a stranger to his time, and he doesn't exactly fill her in on how much danger she's in. Not right away, at least. The book is very aware of how Griffin-Mars is broken, and part of the story arc is his struggle to rediscover his own humanity.
One of the most fascinating aspects of the book was seeing different slices of future Earth history, and Chu's take on how technology and society evolve over the coming centuries. I was particularly fond of the character of Grace Priestly, creator of the Time Laws. Like most everyone else in the book, she can be cold and ruthless, but I appreciated her overall "Screw you I do what I want" attitude.
There's not a lot of humor or warm fuzzy moments. There is plenty of action, some nifty ideas, and strong bleak-but-not-quite-dystopic worldbuilding. It's a book with a lot of desperation, and it sets up an underdog-style against-all-odds fight for survival, both for our protagonist and for our species.