Ambelin Kwaymullina was the other Guest of Honor at Continuum earlier this year. She's a delightful, intelligent, and all-around wonderful human being. Ambelin is an Aboriginal writer and illustrator from the Palyku people, and is the author of a number of award-winning picture books as well as a YA dystopian series.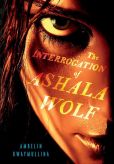 She was kind enough to give my daughter the first book in that series as a gift. I picked up the second at the convention. Having read them both, I am now waiting Very Impatiently for the third and final book to come out!
Book one is The Interrogation of Ashala Wolf [Amazon | B&N | Mysterious Galaxy]. Book two is The Disappearance of Ember Crow, and doesn't appear to be out in the U.S. yet. I'm not seeing it from Book Depository, either. Grumble.
Here's the description in the author's own words:
The Tribe is a three-book dystopian series set on a future earth where the world was ripped apart by an environmental cataclysm known as 'the Reckoning'. The survivors of the Reckoning live in an ecotopia where they strive to protect the Balance of the world, the inherent harmony between all life. But anyone born with an ability – Firestarters who control fire, Rumblers who can cause quakes, Boomers who make things explode – is viewed as a threat to the Balance. Any child or teenager found to have such a power is labeled an 'Illegal' and locked away in detention centres by the government.
Except for the ones who run.
Sixteen year old Ashala Wolf leads a band of rebels who she names her Tribe. Sheltered by the mighty tuart trees of the Firstwood and the legendary saurs who inhabit the grasslands at the forest's edge, the Tribe has been left alone – until now. A new detention centre is being built near the forest, and when The Interrogation of Ashala Wolf begins, Ashala has been captured by the government and is on her way to interrogation…
I loved these books.
Dystopia is popular these days, as is dark, gritty, often hopeless fiction. While these books certainly have a dark and dystopic setup, there's also hope and joy and life and love. You read the books and you don't walk away thinking, "Well, the world sucks, and everything is hopeless." You walk away thinking, "Humanity sure screws things up sometimes, but we will survive, and we will make things better in the end."
The characters are wonderful. Heroes and villains, humans and [spoilers]. There's such a range of powers and personalities, and it all just works. I particularly like that we see a similar range in the government and elsewhere. There are no monolithic blocks of good or evil people. You get a sense of the larger struggle playing out throughout the world.
You wouldn't think a book about an interrogation would be such a page-turner, but I lost several nights' sleep to these books.
I did feel like book two stumbled a little at the beginning. When Disappearance begins, Ashala has retreated from the Tribe after accidentally injuring someone she cares about with her power. This part didn't quite work for me, but that might be because I'm 40 years old, and I forget that Ashala Wolf and the rest of the Tribe are still kids. Regardless, once we moved past that part, the story once again sucked me in and wouldn't let go.
Book two expands the scope and the worldbuilding in wonderful and completely unexpected-but-consistent ways. It's a book about love and despair and history and family and religion and hope and evil and so much more.
So here's the deal:
You need to go pick up book one and read it.
Candlewick Press needs to hurry up and release book two so I can push all of my U.S. readers to get it.
Ambelin Kwaymullina needs to magically make book three be out now so I can read it and see how everything comes together.
Any questions?