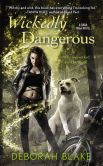 Wickedly Dangerous [Amazon | B&N | Mysterious Galaxy] is the first book in a new paranormal romance series from debut novelist Deborah Blake, coming out in five weeks on September 2, and it's a lot of fun. From the publisher:
Older than she looks and powerful beyond measure, Barbara Yager no longer has much in common with the mortal life she left behind long ago. Posing as an herbalist and researcher, she travels the country with her faithful (mostly) dragon-turned-dog in an enchanted Airstream, fulfilling her duties as a Baba Yaga and avoiding any possibility of human attachment.
But when she is summoned to find a missing child, Barbara suddenly finds herself caught up in a web of deceit and an unexpected attraction to the charming but frustrating Sheriff Liam McClellan.
Now, as Barbara fights both human enemies and Otherworld creatures to save the lives of three innocent children, she discovers that her most difficult battle may be with her own heart…
As some of you might know, I have a bit of a weakness for updated/retold fairy and folk tales, so seeing Baba Yaga brought into the 21st century with an enchanted Airstream trailer (complete with a fridge that at any given time might contain anything from baked chicken to an endless supply of cherry pie), a dragon disguised as a big old pit bull, and a load of magic, was pretty much guaranteed to draw me in.
Barbara is a great protagonist, powerful and compassionate, but also a bit out-of-touch with her human side. That happens when you spend most of your life moving about, hanging out with the supernatural, and never building any long-term relationships with mortals. Her love interest, Liam, was engaging as well, being a small-town sheriff with a good heart and some romantic/emotional scars, dealing with the double-barreled crap gun of corrupt politics and a case he's not equipped to understand. They make a good team, and Blake definitely creates some good chemistry between them.
I winced a little at the treatment of Liam's ex-wife. She's quite broken, and at times it felt like she was there more as a plot device than as an actual character.
It looks like each book in the series will follow a different Baba Yaga, which I like. It means the book has a satisfying ending and a full plot arc, but also promises more to come. The epilogue sets up the next book, Wickedly Wonderful, which comes out in December 2014 and tells the story of Beka Yancy.
Wickedly Dangerous is a fun, fast-paced read with heroic protagonists, a clear battle of Good vs. Evil, love and romance, a happy ending, and a lot of nice little details. And also a dog-dragon. (Yes, I really like Chudo-Yudo.)
More info is available on Blake's website.