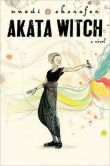 I finished reading Nnedi Okorafor's YA fantasy Akata Witch [Amazon | B&N | Mysterious Galaxy] on the flight to Colorado last week. I then recommended the book to a number of different people at the conference. It's fun, interesting, fast-paced, and just plain good. From the publisher:
Twelve-year-old Sunny lives in Nigeria, but she was born American. Her features are African, but she's albino. She's a terrific athlete, but can't go out into the sun to play soccer. There seems to be no place where she fits. And then she discovers something amazing — she is a "free agent," with latent magical power. Soon she's part of a quartet of magic students, studying the visible and invisible, learning to change reality. But will it be enough to help them when they are asked to catch a career criminal who knows magic too?
I've seen a few reviews that describe the book as being inspired by or too similar to Harry Potter. Both are coming-of-age stories about children who discover they have magic. Both protagonists explore a hidden magical community, and ultimately, they both have to face a rather terrifying Big Bad. But none of these elements are new or unique to Harry Potter, and Okorafor's story and worldbuilding are a refreshing change from most "magical teenager" stories.
I loved the characters, all of whom have distinctive personalities and voices, from Chichi's bluntness to Sasha's rebelliousness and American sensibilities to the different mentors and teachers Sunny meets. I also appreciated the excerpts from Fast Facts for Free Agents, a rather condescending but informative book about people like Sunny, who have non-magical parents. The book-in-a-book does a nice job of helping orient the reader while doing the same for Sunny.
It's not all magic and soccer and fun, of course. Sunny's world is harsh and unforgiving. The artistic wasp who creates a new sculpture each day will also sting you if you're not suitably appreciative. Sunny risks being caned for disobeying the rules of magic, and her lessons are potentially deadly. At home, Sunny lives with an abusive father (making this the second YA book in a row I've read with an abusive father.) And then there's Black Hat, a man who's been murdering children, and whose magic is far stronger than that of Sunny or her friends…
The book is steeped in Nigerian culture and folklore, and recognizes real-world tensions and conflicts without ever feeling preachy. There's a brief reference to 419 scams, acknowledgement of racism and prejudice in Nigeria and the U.S., and more.
My only nitpicks would be that the final confrontation with Black Hat felt a little quick, and I was disappointed to not see more of a resolution between Sunny and her father. But neither of these things took away from my enjoyment.
Like I said at the beginning of this review, I recommended this book a number of times over the weekend, and I'll recommend it again. It's a good story, well-written, with great characters and magic. And I'm happy to say that Okorafor has confirmed there will be additional books in this series.
Also recommended: A review of Akata Witch that discusses the cultural context and references in ways I'm not able to do.