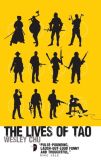 The Lives of Tao [Amazon | B&N | Mysterious Galaxy], is Wesley Chu's first novel, and I kind of hate him a little bit for that. I picked up and started reading the book because I had met Wesley a while back, and he seemed like a pretty cool person. I finished reading it because it's such a fun read.
Tao is basically a symbiotic life form, one who requires a human or animal host to survive on Earth. His people crash landed on our planet ages ago, and are now at war. Tao and the Prophus want to peacefully encourage humanity's evolution until our technology is advanced enough to help them get home. The Genjix are believed to have similar goals … minus the "peacefully" part.
After a mission gone wrong results in the death of Tao's human host, he's forced into the body of an unambitious, insecure IT technician named Roen. This is the time, when he's stuck in an untrained host, that Tao is most vulnerable. He has to keep Roen alive long enough to get him trained, and eventually to try to figure out what the Genjix are really up to this time.
Like I said, the book is a lot of fun. Tao is a great character, one who has existed in some of the greatest hosts in human history. (Genghis Khan, for example.) Tao tells Roen dream-stories about some of his past lives at the start of each chapter, which gives him (and us) the background of both Tao and his people.
Tao has tons of experience and knowledge, but upgrading Roen to superspy status isn't as easy as simply plugging him in. There's plenty of banter, entertaining training scenes, lots of action, and characters you want to keep reading about.
The only real complaint I have isn't about the writing so much as it is one of the tropes Chu uses in the book. He's created a world in which many of the wars and tragedies of human history were actually engineered by the Genjix. While it makes sense in the context of the book, I've never liked that particular trope, since it would seem to excuse us for our own atrocities. I know it's fiction, but it still bugs me. Humans are capable of amazing things. We're also capable of horrible, evil things. Pretending otherwise feels like lying about human nature.
Like I said, it's a personal peeve.
There's a twist in the ending that I saw coming pretty early on, but overall, it's a good ending, one that wraps up the events of this book while making it clear there's more to come in the series.
You can read an excerpt of the book at Tor.com. I'm looking forward to reading the sequel, The Deaths of Tao.