Anyone know if there's a good plugin for emphasizing pull quotes in a blog post? Because I'd love to be able to make lines like this stand out even more:
"That book – that wonderful, hidden, slim brown book – was a lifeline. It gave me the option to consider something other than the horrific status quo I was maintaining."
Also, my thanks to Joie Young for mentioning xyr frustration with Dumbledore. I had mixed feelings about that revelation as well, but xe articulates it better than I've been able to.
I've got at least two more guest blog posts coming, but I'm still deciding which one to run next. So I guess you'll just have to come back tomorrow to find out!
---
I couldn't even tell you when I began to notice women. I have no memory of my first crush on a girl. I can look back and identify what would have been a crush if I had thought for a second that I could crush on a female, but I can't tell you who it was or when it was or even why I crushed on her.
Because that simply wasn't an option.
What I can tell you is the moment I first saw myself reflected in a book – not that I recognized it was me in that reflection. I was in high school. My literature class was working in the library on some sort of internet search worksheet. I had just completed the worksheet, so I scoured the bookshelves for something to read while the rest of the class completed it.  The book I chose was literally on the bottom shelf in the back corner of the library. Honestly, I thought it was part of the reference section at first. The back cover introduced the book as a coming of age novel, and that seemed like a decent enough distraction. So, I went back to my desk and read.
I could not have known what I was getting into. This wasn't just a coming of age novel. This was a close look at race, education, class, and sexuality. The main characters were black, poor, had insufficient resources at their school, and weren't of the "traditional" sexualities. Now, I'm pretty lucky in this world. I'm white and middle class with parents who invested in my education from the start. I have so much privilege. But I'm also pan-sexual and non-binary. So, while much of the discussion in this book – oh how I wish I could remember the name of it! – was totally foreign to me, I still needed it in a way I would not be able to describe until years later. When the main character in the book, an aromantic girl, sees the boy she has convinced herself she has a crush on kiss another boy, the moment spoke to me.
The clarity of that moment – both in the book and my recognition of something familiar there – has often occurred to me in the years since. I finally came out when I was twenty-five, a short eighteen months ago, to a few friends. And I was terrified. Because when my family found out, and I wanted them to find out from me, how would they react? The boy in the book was so terrified of being found out. The girl felt so much shame, but she wasn't sure why. Was it because of what she saw? Or what she felt? Or who he was?
The resolution of the book was the girl working things out in her own head. She re-extended the hand of friendship to the boy, who was relieved that she knew. She realized people were just people and that was nothing to be ashamed of. She became comfortable with her lack of romantic interest. It was an uplifting ending.
And it gave me courage a decade later. Maybe I shouldn't be so scared (though I was). Maybe I should give people the opportunity to be amazing (and they were). Maybe I should be comfortable with myself (now I am). That book – that wonderful, hidden, slim brown book – was a lifeline. It gave me the option to consider something other than the horrific status quo I was maintaining.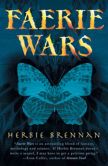 There was another book, Faerie Wars by Herbie Brennan. This one I read about two years before I came out and two years after having fallen in love with a woman (not that I would admit it at the time). It was a revelation. First of all, because it was such a sensory book. The main character is a teenager and the descriptions are focused on concrete senses, especially touch and smell. It was like an adult author finally remembered what it was like to be a teenager – or at least how it was to be a teenager like me.
The second reason the book had such an impact was what was happening in the background. Henry Atherton, the young teenaged protagonist, was trying to understand his parents' sudden divorce, as was his sister. And the parents were getting divorced because his mother had fallen in love with a woman. The reactions ranged the spectrum. Henry was shocked – his mom had, after all, married his father and had two children with him. Henry's sister was flat-out in denial and spouting all the stereotypes about it being "a phase" and it not being "real" and how every woman "goes through this sort of thing." Mr. Atherton was resigned and doing everything he could to keep the family as in tact as possible. He understood his wife no longer loved him and chose to move out. Mrs. Atherton acted as if nothing was wrong, as if she could make it all right by pretending nothing happened.
I haven't read the book since I came out and began learning about representation (and how not all representation is good). It's possible that the treatment of the situation is offensive. But at the time, I needed to see those multitudes of reactions. At the time, I needed an idea of what might happen when I came out (not that I would admit I thought I might be coming out in the near future). I needed to know that coming out – after years of silence – was an option. I needed to be told it wouldn't kill my family or my friends and that there would be people who loved me at the end of that day. And oh, how there were.
Even now, out and happily so, I need those books. I cried when a character in one of my favorite series came out, in canon, as gay (I'm declining to mention the series as the book is barely four months old – I don't want to spoil anyone). That was my greatest frustration with Dumbledore – we need, I need, canon representation. Those words in black and white have great meaning and hope. Often times, still, books are the support I do not get from the culture that told me for twenty plus years that my sexuality and self were not options.
If those words mean so much to me, I cannot fathom what they mean to those who don't have all my privileges. Representation in art matters so much. I wouldn't have known where to begin had I not had it. I would not have known that I had options.
And so, I fight when and how I can for representation. I get angry when people try to deny it. I feel hurt, too personally sometimes, when people say it's not necessary. I cry when we get small, too tiny pieces of the pop-culture pie because at least there's a piece for us. Sometimes, I honestly don't know if those tears are of rage at the smallness or of joy at the existence. Sometimes, I know they're both. We've got such a long way to go, so it's especially important to me when celebrities and athletes and everyday people come out.
Because someone out there needs the option.
---
Joie Young is an aspiring author currently knee-deep in the editing process of xyr first manuscript. Xe spends most of xyr time steeped in faerie tales, mythology, and rodeo. Xe writes about writing here, tweets here, and – in general – enjoys being an avid fan of good literature, good TV, and good food. Books were xyr only advocates for many years, so xe is especially passionate about representation in literature.