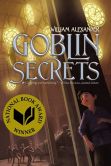 William Alexander's Goblin Secrets [Amazon | B&N | Mysterious Galaxy] won the National Book Award for Young People's Literature. Watch out, world! Goblins are winning awards now!
Alexander's goblins are a bit more civilized than mine, with more fairy-style magic and fewer nose-picking injuries. From the Goblin Secrets website:
Rownie, the youngest in Graba the witchworker's household of stray children, escapes and goes looking for his missing brother. Along the way he falls in with a troupe of theatrical goblins and learns the secret origins of masks. Now Graba's birds are hunting him in the Southside of Zombay, the Lord Mayor's guards are searching for him in Northside, and the River between them is getting angry. The city needs saving — and only the goblins know how.
One of the things I liked about this book was that the author didn't spend a lot of time on backstory or hand-holding to explain the worldbuilding. You jump right into Rownie's story, picking up details as you go, from the clockwork guards to the mythology of the River to the layout and struggles of the split town. I've seen a few reviews that complained this was confusing, but I didn't have a problem with it. I really enjoyed the worldbuilding, and the thought Alexander had put into the magic and history. You can skim the book and still appreciate the story, but you'll get a lot more out of it if you read more closely.
The different types of magic felt original and interesting, from the masks to Graba's curses to the coal used to power various automatons. I also appreciated the role and personalities of the goblins, all of whom felt distinctive and real and interesting.
At its heart, the plot is pretty straightforward and self-contained. What's interesting to me is that I think one of the reasons it works so well is everything Alexander doesn't say, in addition to the things he does. He drops hints and suggestions, and the reader fills in the rest. It's an impressive balancing act.
There are a few scenes that are genuinely dark and disturbing in that old-school fairy tale way, but they feel right for the book. And the ending is both satisfying and true to the story.
Not bad for a debut novel.
You can listen to an eight-minute audio sample on the Simon and Schuster website or read an excerpt through Google Books.