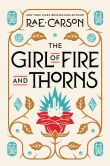 I brought Rae Carson's The Girl of Fire and Thorns [Amazon | B&N | Mysterious Galaxy] along to read on the flight to and from MarsCon. I enjoyed it enough that I ended up finishing the book before I reached Chicago on the flight home. It has engaging characters, plenty of action, interesting magic and worldbuilding, everything a good book needs.
The official description:
Once a century, one person is chosen for greatness.
Elisa has always felt powerless, useless. Now, on her sixteenth birthday, she has become the secret wife of a handsome and worldly king—a king who needs her to be the chosen one, not a failure of a princess. And he's not the only one who seeks her. Savage enemies, seething with dark magic, are hunting her. A daring, determined revolutionary thinks she could save his people. And he looks at her in a way no man has ever looked at her before. Elisa could be everything to those who need her most. If the prophecy is fulfilled. If she finds the power deep within herself. If she doesn't die young.
The book is popular enough that there are a ton of reviews if you want more details there. I want to jump right into an aspect of the book that jumped out at me. Namely, the fact that Princess Elisa is unapologetically fat.
Now when I say that, I don't mean that the character herself is unapologetic. When we meet Elisa, she knows she's seen as unappealing, ugly, even grotesque, and she's internalized those beliefs for most of her life. But Carson doesn't dance around the fact. She doesn't try to minimize it, or to soften the descriptions or effects, both physical and societal. At the same time, the narration never struck me as fat-shaming. It's an impressive and powerful balancing act.
I really appreciate meeting this strong, intelligent, likeable character who happens to also be fat, and I'm very glad Carson chose to write her. I've read a lot of epic fantasy, and I believe this is the first time I've come across a protagonist like this. (I'm sure there are other examples; my point is that it's very, very rare.)
As impressed as I am with the writing, there were things I found troubling. Elisa is someone who eats to cope with stress and anxiety and depression. Over the course of the book, as she's drawn into the middle of a war, she finds herself living a much harsher lifestyle. Less food and more exercise, and within a few chapters, she's dropped a great deal of weight. She's never skinny, which I appreciate, but there is a pretty drastic physical change that coincides with her growth into a leader.
This particular narrative thread troubled me as I read it. To her credit, Carson notes in the afterword that she struggled with it as well, and that she even considered not having Elisa lose weight. But she felt that given everything Elisa endures, it would be unrealistic to not show the physical effects. It's a valid argument, and I'm not sure how she could have done it any differently.
But at the same time, it makes this a story about a character who's fat because she's slothful and gluttonous, who loses lots of weight when she has to hike across the desert with very little food, and who suddenly has more confidence, male attention, etc. once she's lost weight.
It's not that this narrative is necessarily unrealistic. Sometimes people are fat because they eat too much and never exercise. Sometimes diet and exercise is all it takes. But this is pretty much the only narrative we ever hear. Fat = slothful and lazy and gluttonous, and all those fat people need is a bit of exercise and discipline, and their lives would be so much better.
To be clear, I don't believe that's what Carson is trying to say here. In fact, there are places where I believe she's working against that narrative. For example, one character's attraction to Elisa begins before the weight loss. But I'm not sure it's enough.
It's something that bugs me in the cover art, too. The U.S. paperback shows only Elisa's face within a blue jewel. Other editions consistently show slender women on the covers. We all know why they do it, but it's disappointing nonetheless.
While I may have reservations about this part of the story, I still appreciate Carson writing and struggling with it. My guess is that a lot of people, particularly those who are or have been overweight in our society, will relate to much of what Elisa experiences.
And it really is a well-written, engaging book. I love the way Carson incorporates religion, how she interrogates it and shows it as a tool for both good and evil. The culture, a loosely Spanish setting, was interesting and new to me. The magic system works well, and the various revelations were wonderful.
It's a good book, and I think it's definitely worth reading. You can read a sample at the Harper Collins website.
I would absolutely love to hear other people's thoughts on this one.