I've had a harder time lately making time to read for pleasure. It's something I usually try to do before bed, but between working double-time on the book and the kids staying up later, this hasn't been working out as well. Then, after listening to Alethea Kontis' Enchanted on the drive to and from GenCon, it occurred to me that I could at least squeeze some audio fiction into my 15-minute commute to and from the day job.
This is how I ended up on PodCastle and Escape Pod, searching for stories to listen to.
I started out with Saladin Ahmed's "Doctor Diablo Goes Through the Motions," a short first-person superhero piece. At 14 minutes in length, it felt like flash fiction, though I don't know the exact word count. More snapshot/commentary than full-length story, it contained a number of good, Ahmed-style observations about race, prison culture, and superhero tropes. Poor Doctor Diablo…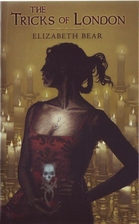 Next up was "The Tricks of London," by Elizabeth Bear. PodCastle describes this as a "Giant Episode," coming in at 79 minutes. The story is set in Bear's New Amsterdam world, and features Detective Crown Investigator Abigail Irene Garrett, a forensic sorcerer and the only woman in the late nineteenth century Enchancery. (April 1879, to be exact.)
The story is told from the point of view of Detective Sergeant Sean Cuan, and describes their investigation into a supernatural serial killer.
Let me put it this way. I now need to read all of Bear's New Amsterdam stuff.
The plot itself isn't overly twisty, but the details she provides reminded me that Bear has a lot of practice writing this kind of fiction (see Shadow Unit), not to mention being a fan of Criminal Minds 🙂 )
It's the characterization and the language that really drew me in, though. While this story does fall into the "only one active female surrounded by male characters" category, it's a deliberate historical choice, and handled quite well. I like Garrett a lot, and enjoyed her developing quasi-mentoring/friendship with Cuan. And Bear's description is vivid and evocative. She chooses each word carefully, and it shows.
#
Have you read or listened to either of these stories? If so, what did you think? And what other sites would you recommend for someone starting to get into podcast fiction?