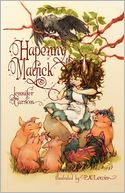 I spent much of the drive to New York last week listening to Jennifer Carson's book Hapenny Magick [Amazon | B&N | Mysterious Galaxy].
Maewyn Bridgepost is the smallest of the Hapennies, working for her guardian Gelbane in a relationship similar to Cinderella and her stepmother. But strange things have been happening around Maewyn – purple eggs, gates mysteriously unlatching themselves – signs that suggest the impossible: a Hapenny with magic.
In the meantime, several of the Hapennies have disappeared, and the culprit might be trolls. The Wedge is supposed to be protected from trolls by an old spell, but if that spell is failing, it could mean the end of the entire village.
This is a book aimed at younger readers, with illustrations by P. A. Lewis, but I enjoyed it. It reminded me of a blend of fairy tales, the movie Willow, and a dash of The Hobbit. Maewyn is a lovely protagonist, and there are many nice and whimsical touches, from Callum and his kitchen magic to Maewyn's care for her pigs to the disheveled raven who leads Maewyn on her adventure.
There were a few dark moments when it comes to the fate of a few Hapennies, but that's never described directly, and they aren't any worse than the old fairy tales. And while there were one or two places where things happened a little too conveniently for Maewyn and the plot, overall it was an enjoyable book, made even better by Simon Brooks' narration.
Let me put it this way. By the time I finished listening to this book, I was looking forward to reading it to my children.