I'm off doing Guest of Honor stuff at Northern Michigan Anime Con this weekend, so I turned the blog over to my friend Morgan Keyes to talk about her new book, and how she transitioned from writing more adult books as Mindy Klasky to a middle-grade novelist with a spiffy new pseudonym.
Also, she's giving away a free book, which is always cool.
You can read an excerpt from Darkbeast on her website.
#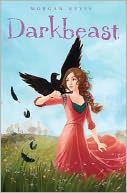 Many thanks to Jim for allowing me to visit here and tell you about my middle grade fantasy novel, Darkbeast.  Due to the generosity of my publisher, Simon & Schuster, I will give away a copy of Darkbeast to one commenter, chosen at random from all the comments made to this post by 11:59 p.m. EDT tonight.
In Darkbeast, twelve-year-old Keara runs away from home rather than sacrifice Caw, the raven darkbeast that she has been magically bound to all her life.  Pursued by Inquisitors who would punish her for heresy, Keara joins a performing troupe of Travelers and tries to find a safe haven for herself and her companion.
Before writing Darkbeast, I published sixteen novels in a variety of genres, ranging from traditional fantasy for adults, supernatural chicklit, light paranormal romance, and traditional category romance.  (Those last couple of books – spicier than I was comfortable having my mother read – are the reason that Darkbeast is published under a pen name!)
For the past several years, though, I'd felt a pull from "The Darkbeast", a short story that I wrote for the anthology Fantastic Companions, edited by Julie Czerneda.  In a couple of thousand words, I'd built a world that I longed to return to.  I wanted to learn more about darkbeasts, about how they worked as scapegoats for their people, about what happened to rebels who struck out on their own in a society controlled by religion.
The novel Darkbeast started out as a story for and about young adults, teenagers who had a fair degree of autonomy.  But as I wrote the novel, I realized that more interesting questions were posed when rights and power were taken away.  I wanted Keara to be most vulnerable, to be faced with tough decisions and even more difficult social restrictions.
And so, Darkbeast became a middle grade novel.
In many ways, that transition was destined from my first days as a speculative fiction writer.  As a child, I always enjoyed reading, but I hit my speculative stride in middle school.  I discovered A Wrinkle in Time and the Narnia series, The Hobbit and the Deryni.  I role-played my favorite characters (although I wouldn't have known that term if you'd asked me), and I wrote my first fanfic (ditto).
Middle grade reading was magical for me, and now I wanted to share that magic with others.  I wanted to give young readers that feeling of escape, that urge to stay up late reading under the covers, that desire to create new stories that lived on in the light of day.
At the same time, I wasn't willing to give up complex characters and difficult moral choices.  I definitely wasn't willing to dumb down my vocabulary.  I learned about people and ethics and language from the reading I did in middle school; there's no reason not to give today's children the same keys to their world.
And so Keara became twelve.  And a pen name was chosen.  And Darkbeast has been released into the world.
When did you first discover a love of reading?  Do the plots and themes of those treasured books still inspire you?
Morgan can be found online at Facebook and her website.
Darkbeast is for sale in bricks-and-mortar and online bookstores, including:  Amazon | B & N | Indiebound
#
Morgan Keyes grew up in California, Texas, Georgia, and Minnesota, accompanied by parents, a brother, a dog, and a cat.  Also, there were books.  Lots and lots of books.  Morgan now lives near Washington, D.C.  In between trips to the Natural History Museum and the National Gallery of Art, she reads, travels, reads, writes, reads, cooks, reads, wrestles with cats, and reads.  Because there are still books.  Lots and lots of books.