Nnedi Okorafor's Who Fears Death [Amazon | B&N | Mysterious Galaxy] won the 2011 World Fantasy Award for best novel and made a number of other award shortlists and "Best of the Year" lists. This is a powerful book, one that looks unflinchingly at issues like rape and genocide, slavery and female circumcision. Unlike many books I've read, Okorafor's approach never felt exploitative; she writes honestly. The book is sometimes brutal and sometimes beautiful and occasionally both at once.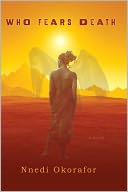 The book is set in post-apocalyptic Africa, and tells the story of Onyesonwu. The bones of Onyesonwu's story will be familiar to fantasy readers. She is an outsider in her village, marked as a child of violence by her sand-colored hair and lighter skin. She possesses magical powers that she must learn to master. There is a prophecy she hopes to help bring about, one which leads her to leave her home and set off on a quest with her companions.
But Who Fears Death is so much more than a quest story. What impresses me most is that this book never looks away. It never glosses over beauty or ugliness, love or hate. It doesn't present simple answers, and never shies away from the complexities and contradictions of life. Good things can come from the most evil or brutal acts, while evil and darkness can come from the best intentions.
Okorafor has talked about the genesis of Onyesonwu's story, some of which is posted on the Amazon listing for the book.
"My father's passing caused me to think about death, fear, the unknown, sacrifice, destiny and cosmic trickery. Only a week or so after my father's passing, I read the Washington Post article, We Want to Make a Light Baby: Arab Militiamen in Sudan Said to Use Rape as Weapon of Ethnic Cleansing by Emily Wax. I was absolutely infuriated. The storytelling spider in my head started weaving faster. I realized that this article was showing me why the people in my story's town disliked Onyesonwu and why she was so troubled."
The result is a book that feels both universal and intimately personal.
The ending was fascinating, and while I'm not going to spoil things by going into details, I'll say it's another example of Okorafor refusing to follow the simple, oft-trod paths of the fantasy genre.
I suspect the book would be triggering for some readers due to rape and other violence, but with that disclaimer, I strongly recommend it.
I know a number of you have also read this one, and I'd love to hear your thoughts.