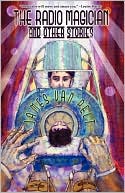 I picked up James Van Pelt's first short fiction collection, Strangers and Beggars, way back in 2002 at World Fantasy Con in Minneapolis.  Even then I was impressed at how much power he could pack into a few thousand words.  His latest collection, The Radio Magician and Other Stories [Amazon | Mysterious Galaxy], is even better.
It's easy for fiction to become formulaic: Protagonist wants X.  Protagonist tries to achieve X by doing Y.  S/he fails, tries again, fails again, tries a third time, and either wins or loses it all in the climax of the story.  It's a perfectly serviceable formula, one which produces perfectly serviceable fiction.
Van Pelt does so much more.  In "Where Did You Come From, Where Did You Go?" our protagonist and her friend don't stop the bad guy.  They're not active characters at all, being mere observers to the SFnal drama unfolding in their classroom.  Yet it's still a tense, gripping story.  And the ending, in which they learn the truth and are left with one terrifying and unanswerable question, has more impact than many full-length novels ever achieve.
"The Inn at Mount Either" packs a similar punch, making the SF idea more central to the story as our protagonist explores a resort situated at the intersection of parallel universes.  Van Pelt doesn't give us the easy ending another author might have written; he adds one more page, turning an interesting story into a full-strength gut punch.
He's also playing with fascinating ideas.  What if artificial intelligence was not only possible, but became so cheap that everything could have AI chips?  What if space exploration could be outsourced, not to private companies, but through children's collectible toys?  (Gotta find 'em all!) What if the universe were ending, and all that remained were two sentient machines orbiting a star?
Like any collection, some stories worked better for me than others.  I wasn't as fond of "Of Late I've Dreamt of Venus," mostly because I didn't feel as connected to the characters.  "One Day, in the Middle of the Night" was an interesting premise, but I felt like Van Pelt was working too hard to fit the gimmick of the story.
But these were the exceptions, and even with these stories, I was still impressed by the ambition, the purpose and power of Van Pelt's writing.  Let me put it this way: reading this book made me completely rethink the potential of the short story, and the things I want to accomplish the next time I sit down to write one.
The notes on my ARC say the book comes out in September, though Amazon lists it as already available.  I definitely recommend this one, both as a reader and a writer.  And while you're at it, check out James Van Pelt's home page, or go visit him on LiveJournal at jimvanpelt.