Welcome to First Book Friday, an ongoing series exploring how various authors sold their first books.
Lynn Flewelling started writing "just for the fun of it."  Today she's the author of eight published fantasy novels, as well as a highly popular LiveJournal.  She talks about the decade-long journey of writing her first book(s), and some of the potholes along the way.  If you'd like to meet Flewelling in person, check out Writing on the Waves, where she'll be teaching a writing workshop during a  week-long cruise.  (Let's see Clarion top that!)
Oh, and she's also a were-otter…
#
I spent nearly ten years writing what ultimately became my first two fantasy novels, Luck in the Shadows [B&N | Mysterious Galaxy | Amazon] and Stalking Darkness [B&N | Mysterious Galaxy | Amazon].
The proto-manuscript began as an idea in a notebook on a Maine beach, something just for fun, and just for me. I wasn't seriously considering becoming a fantasy author. It was my little private project, something I showed only to my husband, who liked it. Then I showed it to a friend, who liked it. And more friends, who also liked it. So I says to myself, "Self, maybe we should try to finish this Thing—just for fun."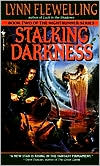 I took that path, but it gradually bled into the idea that I was putting an awful lot of effort into the Thing and maybe I should have higher aspirations.  Somewhere along the way I took a week-long writing workshop with an author whose work I really admired, and she liked my proto-manuscript very much. She wasn't a fantasy author, and didn't have the right connections to sell it, but her faith in my work made a huge difference.
So after a decade or so of just-for-fun-turned-obsession, I found myself with a gigantic novel to sell. The next step was to teach myself to market. That took months. I did my homework and sent out carefully crafted query packets to dozens of carefully researched agents. The rejections began to roll in, most of them generic postcards. But one agent did tell me that the Thing was too long, and that I should split it in two and add a plot arc to be resolved in the first book. If I did that, she'd look at it again. I took her advice, spent months rewriting, and she still rejected the book.
But her advice was sound. Not long after that a very good agent took me on and sold the book to a major publisher in a matter of months. 
Looking back, I can see lots of things I wish I'd known or done differently, but there's also a thread of tenacious effort even in the face of my own doubts that continues to surprise me.
There is a side story, though. While I was looking for an agent, a writer friend sold her SF book directly to a major publisher. She urged me to submit my book to him, which I did. He didn't like it and I found out from my new agent that now she couldn't submit my book to any other editors at that house, due to professional etiquette. Newbie blunder of major proportions. But as I said, she quickly sold my book to another major house, so it all ended happily.
Another by product of the journey was an article I wrote for Speculations called "The Complete Nobody's Guide to Query Letters," which has since been reprinted Moira Allen's The Writer's Guide to Queries, Pitches & Proposals. It can also be found at the SFWA website.
Author photo by Bernard Landgraf.