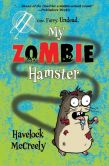 My Zombie Hamster [Amazon | B&N | Mysterious Galaxy], by Havelock McCreely, is … well, it's pretty much exactly what it says on the box. There's this hamster, you see. And he's a zombie…
Naturally, there's more to it. Let's start with the official synopsis:
Matt Hunter and his buddies are looking forward to Christmas — actually, they're looking forward to receiving the latest sword-and-fantasy video game. But Matt's parents have other thoughts — they give him a fluffy little mammal, a hamster called Snuffles, for the holiday. And his grandmother makes it worse by giving him a hamster cage and wheel. But the hamster isn't all that cute — at least not after part of its cheek and belly fall right off — without bothering it a bit! And why is it staring at Matt with black beady eyes and a lean and hungry look?
Say hello to Anti-Snuffles, the zombie hamster! Or better yet, run!
This is a middle grade book set in the very near present. The zombie apocalypse has led to a society of walled cities and towns, but aside from the zombie-hunting cops wandering around to make sure you're still alive, and the presence of life chips that go off when you expire (alerting said zombie-hunting cops to come and dispose of your potentially brain-hungry corpse). On the other hand, Matt still has to go to school, still references present-day pop culture, and still lives a life that's in many ways pretty similar to most kids these days.
Similar except for the never-named-but-clearly-hinted-at ex-movie star who's come to town to take charge of zombie security, of course. And the mayor's big pet contest. And of course, Anti-Snuffles, who may or may not be building an army of undead critters…
It's a quick read, one the author describes as "a cross between Shaun of the Dead, The Goonies, and The Diary of Adrian Mole." The short, daily chapters are interspersed with Matt's lists of things to do, whether it's his plan for breaking into [SPOILER] or the things he plans to do once he becomes a megamillionaire.
Despite the undead hamster, the book isn't particularly gross or scary, so it shouldn't give young kids nightmares about the family pets. On the other hand, reading it as a not-quite-40-year-old, that also meant the stakes didn't feel quite as urgent to me.
One of my favorite parts was a subplot with one of Matt's friends, something I can't really talk about without spoiling things. But it was an unexpected development, and I really enjoyed the way the characters handled it.
It's a light-hearted story about a boy vs. his undead hamster. What else is there to say?
The book comes out on July 8, 2014.
ETA: And the author has confirmed a sequel is in the works, set about six months after the events of book one.