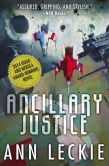 Ann Leckie's debut SF novel Ancillary Justice [Amazon | B&N | Mysterious Galaxy] has gotten a lot of buzz since its release. The book won the Clarke Award, the BFSA Award, made the honor list for the Tiptree Award, and is a Hugo Award finalist for Best Novel. I'm pretty sure it was also a Nebula finalist, tied for an Oscar, and won this year's Super Bowl.
It's an ambitious book, spanning centuries of future history. The protagonist Breq is all that remains of the Justice of Toren, an artificially intelligent ship with thousands of ancillaries — human bodies all controlled by the ship's mind. Justice of Toren was essentially a single entity with thousands of bodies, and Breq was one of those ancillaries.
This isn't a Star Trek-style Borg hive where individual personalities are subsumed into a collective; the host bodies are basically dead, without minds or personalities of their own. They're "corpse soldiers." Justice of Toren is one being who gets caught up in political crossfire and finds herself reduced to a fragment of what she was: a lone human body, limited and alone.
The first part of the book alternates between present and past, plunging the reader into the story and slowly providing the background. This is not a book you should try to skim. After I finished reading, I found myself wanting to immediately go back through the opening chapters again and pick up on everything I'd missed the first time.
I love the way Leckie plays with identity. Anaander Mianaai, the long-lived Lord of the Radch, is similar to Breq in that Mianaai has many human bodies, all linked. I won't spoil things here, but I really liked the revelation of where the ongoing political conflict originated, and Mianaai's role in it.
A lot of the conversations and reviews I've seen focus on Leckie's treatment of gender in the book, both as a cultural construct — gender is treated differently depending on which culture Breq is immersed in at the time — and as a source of personal confusion. What is gender for a being with hundreds or thousands of different individual bodies? Breq often stumbles over gender identification and pronoun use.
It creates an interesting effect when a character Breq has referred to as "she" is then described as "he" for the next part of the book. I found myself rethinking their interactions, the dynamic between them, and more.
I don't know that the book does anything truly new or revolutionary with gender, but it certainly does more than most mainstream SF these days, and I appreciate the way Leckie thought about it throughout the story.
Leckie also examines colonization, the destruction and assimilation of cultures, the drive for continued expansion and conquest, and more. It's powerful and often painful. Aspects of that cold, calculating cruelty are what eventually launch Breq on her quest for vengeance.
I have mixed feelings about Breq's mission. She's out to kill as many of Anaander Mianaai as she can, but she also knows she probably won't be able to take out more than one or two of Mianaai's bodies before being caught and killed herself. Given that Mianaai has hundreds or thousands of bodies, I kept wondering what's the point? Given the setup, that's like avenging yourself on someone by cutting her fingernail.
It may be that Breq was simply lost and knew full well that this was a pointless mission, one that was little more than suicide. But if so, I wish that had been made a little bit more clear. (Or maybe I just missed it.) I do like that the ending went in a different direction, and how that set things up for the next book.
I should also mention the character of Seivarden Vendaai, who ends up accompanying Breq. Vendaai undergoes a powerful transformation as well, being a soldier a thousand years out of her own time. She's a snob and a drug addict, completely burnt out and bitter. I very much appreciated seeing her growth — and at times, her backsliding — over the course of the story.
All in all, a thoughtful book with strong worldbuilding, and a particularly impressive debut. Ancillary Justice is book one of a trilogy. Book two, Ancillary Sword, comes out in October of this year. You can read an excerpt of the first book here.
I haven't read all of this year's Hugo-nominated novels yet, and I wouldn't presume to pick a winner, but I think Leckie is a strong contender.