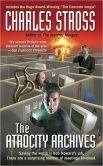 I've been wanting to check out Charles Stross' Laundry series for a while, and finally had time to read The Atrocity Archives [Amazon | B&N | Mysterious Galaxy]. The tagline is, "Saving the world is Bob Howard's job. There are a surprising number of meetings involved." That nicely captures the tone of the book, a blend of Lovecraftian threats from beyond with governmental bureaucracy, complete with budget meetings and petty managerial power struggles.
Bob is more of a hacker geek than a superhero, and it works well, giving us a reluctant hero who favors brains over brawn. (I have a fondness for that type.) There's plenty of action, and there were times I found myself struggling to keep up with the plot twists and revelations … fortunately, Bob was struggling right along with me. He's a sympathetic character, and a good introduction into the world of magic-wielding government spooks and computer-powered rituals.
As for the plot itself, well … Bob gets sent on his first field mission, seeking out a potential contact named "Mo" in the U.S. From there, we get magic terrorists, supernatural (and really nasty) Nazi technology, a bit of romance, and the impending end of the world universe.
It's quick-paced, with lots of good historical background, a fun hero, and a dry sense of humor that works well to balance out the occasional horrific scenes.
The book also includes the Hugo Award-Winning novella "The Concrete Jungle," which continues to blend magic and technology in creative and intelligent ways, talks about the real reason for all of those public cameras in London, and tosses Bob into the middle of another nightmare scenario. I wasn't sure at first what I thought of the revelation of the true villains, but I decided I liked it. It fit well with the world Stross creates.
Also, Bob's boss Angleton is a scary, scary man.
Short version – I've added The Jennifer Morgue, the second Laundry Files novel, to my wish list.
1/21: You can now bid on an autographed 16×16 print of this amazing piece of…art! All proceeds benefit the AFS. Details available here.

Yesterday afternoon at 3:00 p.m., a group of authors set forth on a great challenge. In the hallowed halls of the DoubleTree Hilton, they stripped down and waited patiently while powder was applied to certain overly shiny scalps. Author and photographer extraordinaire Al Bogdan prepared his hand-painted backdrop, set up his camera and flashes, and laid out the rubber raft.
The time had come. John "Waffle-man" Scalzi, Patrick Rothfuss, Charles Stross, and I took our places around Mary Robinette Kowal. We had come to Dearborn not for the glory, but to fulfill a promise made weeks ago, that if the good people of SF/F fandom raised at least $5000 for the Aicardi Syndrome Foundation fundraiser, we would attempt to duplicate the cover of Young Flandry.
The fundraiser brought in more than triple that amount. And thus did the five come together, prepared to endure great pain and sacrifice all dignity to support a very worthwhile cause and simultaneously try to point out that, darn it all, some of our SF/F are just ridiculously sexist, you know?
I'd like to thank ConFusion for hosting our photoshoot and reveal, the other authors for being such wonderful fun and good sports, and Al for donating his time and expertise.
And now, my good internet, ARE YOU READY?
Jim is on vacation this week, and is blogging from one week in the past!  He has very little Internet access, but will read and catch up on comments eventually.
#
So for the past two days, I've talked about Red Hood's Revenge [B&N | Mysterious Galaxy | Amazon].  This raises another question:
Hey Jim, don't you ever get tired of talking about your own book?
Yes.  Yes I do.  So here are some of the other books out this week!
Rift in the Sky [B&N | Mysterious Galaxy | Amazon], by Julie Czerneda.  This is the mass market release of book three in Czerneda's Stratification series.  Czerneda is a fellow DAW author, and writes amazing aliens.  (In part because she has a fourth-degree black belt in biology.)
The Fuller Memorandum [B&N | Mysterious Galaxy | Amazon], by Charles Stross.  This is book three in Stross' Bob Howard – Laundry series.  Harriet Klausner describes this book as "a terrific pull no punches paranormal espionage thriller" … which means it's probably an epic romantic fantasy with weevils.  Either way, it's Charlie Stross — check it out!
Unbroken Chain [B&N | Mysterious Galaxy | Amazon], by Jaleigh Johnson.  This is another of Johnson's Forgotten Realms novels.  It has no weevils that I am aware of.  (I enjoyed her previous FR book Mistshore, which I reviewed here.)
Unholy Magic [B&N | Mysterious Galaxy | Amazon], by Stacia Kane.  This is the second book in Kane's Downside Ghosts series.  You can read an excerpt or download the first five chapters on Kane's website.  This one may or may not have weevils.
Winter Duty [B&N | Mysterious Galaxy | Amazon], by E. E. Knight.  This is the mass market release of book #8 in Knight's Vampire Earth series.  (My review of book one is here.)  This one definitely has weevils … alien vampire weevils!
So which of these are you rushing out to buy?  And what other great new books are out that I'm missing?