My son Jackson and I just finished reading The Wonderful Wizard of Oz, so I asked if he'd do a review I could share with my readers here. I asked some questions to help him along, but everything that follows (except my italicized comments) is his own words.
There are spoilers, but given that the book is more than a century old, I'm not going to worry about putting anything behind a cut.
#
The Wonderful Wizard of Oz is about a girl named Dorothy who is carried by a tornado to the land of Oz and then meets a Scarecrow, a Cowardly Lion, and a Tin Woodman, and kills both the wicked witches. And then she has to get back to Kansas but it turns out that the Wizard of Oz, he isn't even a  wizard! He's just a humbug who was carried by a balloon when he was a balloonist.
What I don't like is that the winged monkeys didn't give a second chance to Dorothy (the second time she summoned them)  since they couldn't go out of the Land of Oz. (Jackson is big on fairness.) And I don't like the Hammer-head Slinky-neck guys, when they had to use their last time to call the monkeys. And I don't like when the silver shoes come off in the desert, because then Dorothy can't see Oz again!
Here's what I did like. Okay, I like that they made the Lion the king of the beasts and I also like that the Wicked Witch that they were going to kill had all those guys, because then I found out that there were black bees! I liked the black bees because I used to not know that there were such things as black bees and now I found out.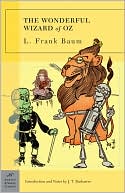 I liked at the ending that Dorothy's companions came to rule over them. The lion ruled over the beasts after he killed the spider thing, and the Scarecrow ruled over the land of Oz, and the Tin Woodman ruled over the Winkies.
There's only one thing that surprised me — that the Hammer-Heads could shoot their heads out with their necks; they had Slinky-necks!
Oz helped me go to sleep because then I had other things to think about and see in my mind instead of scary things so I didn't wake up and have to open my eyes … ! . (Punctuation dictated by Jackson.)
I like the book and the movie both, because in the book there were surprise chapters, and in the movie they gave her ruby slippers, and I liked the ruby slippers better than silver shoes.
I think everybody should read this book because it's really fun.